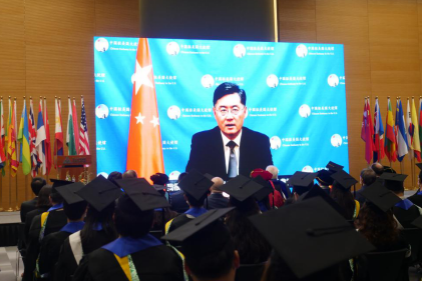 Valuable joint education in China-US cooperation (Envoy)
China's ambassador to the United States on Friday delivered a video address at the Juilliard School's first graduation ceremony at the Tianjin Conservatory of Music and the 2022 graduation ceremony at Duke Kunshan University. , which is also the university's first class of undergraduate students.
He hailed that the China-US joint colleges and universities are valuable attempts at educational cooperation and communication between China and the United States, encouraging students to promote international people-to-people exchanges and become ambassadors of friendship.
The Juilliard Graduate School, Tianjin Conservatory of Music, is the first and only foreign branch of the Juilliard School in New York and was established in November 2015. It is the first art school in China to award the American master's degree. Located in the Yujiapu Free Zone in Tianjin, China, The Juilliard School has become a cultural hub of performance, practice, research, interactive exhibits, and public service.
In his online speech at the graduation ceremony of the Juilliard Graduate School, Tianjin Conservatory of Music, Qin Gang stressed that the school is a high-quality Chinese-American cooperative institution, which has cultivated musical talents and high-level international artists and made a fruitful contribution to the promotion of mutual appreciation of the arts and humanistic exchanges between the two countries.
To the first students to graduate from the Juilliard School, Ambassador Qin said that they are not only outstanding talents nurtured by China-US educational exchanges, but will soon also become artistic ambassadors to promote communication and understanding between China and the world. During these past two years of the COVID pandemic, students have experienced trials and tribulations, reaped the power of growth, and gained a deeper understanding of the interconnectedness of human destiny.
Qin expressed his hope that, standing at the starting point of graduation, in the face of a still complex and uncertain world, students would remain independent and determined and strive to become "global artists" with artistic standards. standards and a sense of social responsibility.