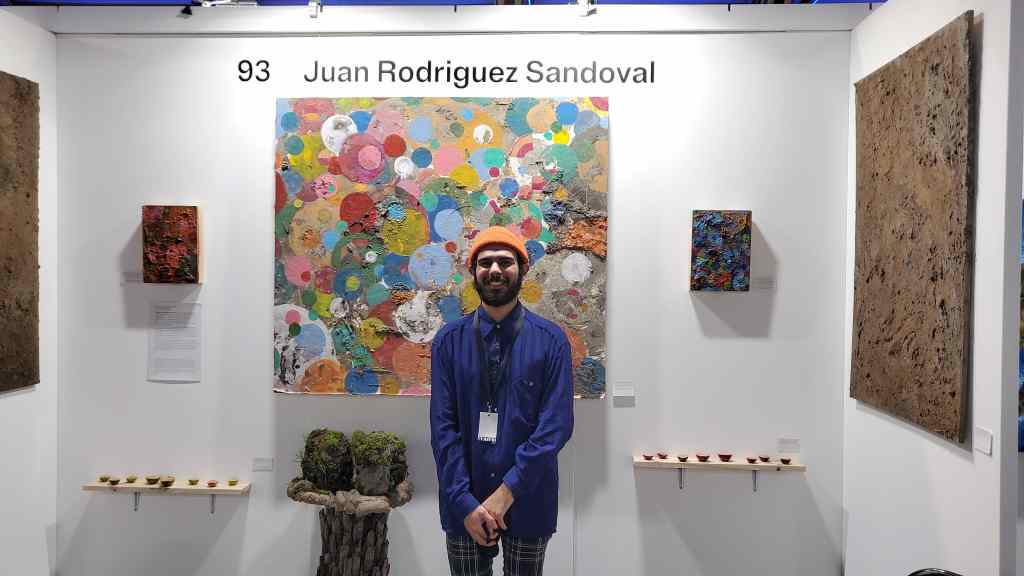 The fair brings together 100 artists on site (to discuss)
Presented by Saatchi Art in multiple locations around the world, The Other Art Fair is unique in its approach to showcasing artists in action on location.
From May 26-29 at Melbourne's Meat Market this year, the fair features Oshi Gallery's NFT IRLs (not an oxymoron), participatory tufting led by artist Jess Bonnily and stick-and-poke tattoo artists if you wish. put on your art instead of taking it home.
But that's not the main reason why the energy of the fair is so refreshing. The draw of The Other Art Fair is that you can catch every artist behind the works on location, ready to have conversations about art, life and everything in between.
This year, the Fair features 100 independent artists with prizes capped at around $10,000.
One of the busiest booths on opening night was British artist Dan Withey, now based in Adelaide. Filling the full expanse of her booth are vibrant, imaginative paintings that mix urban settings with fantastical and whimsical characters and animals.
Marisa Mu's bursts of colorful characters are another standout; Mu also presented a series of ceramics in collaboration with Alicia McVilly. The works are joyous celebrations of cultural diversity, homosexuality and the feeling of liberation generated by the simple fact of being in your underwear.
Organized, like other art fairs, with a commercial intent, The Other Art Fair also presents a platform for artists to present conceptually rigorous works. Juan Rodriguez Sandoval is a strong example of this, presenting paintings and objects that incorporate carbon-neutral cement while imitating gobstoppers.
Presented in the form of a mini-exhibition entitled Samples of an imaginative childhood, the works play on the idea of ​​"conceptual nostalgia" (a reminiscence of what could have been) while exploring the potentials of sustainable art. Sandoval spoke to ArtsHub about the journey of being a new parent and how it evoked a sense of responsibility towards this new life but also his art. Created from found materials and bio-organic matter, the works can literally grow with a life of their own (with sphagnum moss).
Pitok also works in the field of nature against education and nostalgia. The graphic designer has chosen painting as a form of liberation from his professional perfectionism and adopts native plants to contrast with the bonds that make up our identities. The jugs of 辛口 (Asahi) talk about their time in Japan and the influences this experience had on their art.
Around the Fair, visitors can also spot familiar influences, including the Basquiat-esque works of Shane Bonsujet with a personal touch, and the bold paintings and textiles of Samantha Thompson that show the influence of Mirka Mora.
For those wanting something a little more eccentric, check out Lucia Mocnay's stand of gorgeous (ethically sourced) taxidermy foxes with elaborate hairdo. The life-size work in an orange kimono and skull helmet is an irresistible photo opportunity.
If you have burning questions like WTF is an NFT, head to Oshi Gallery to meet the experts and participate in a Q&A or try your hand at tufting (but be prepared to wait due to its popularity) .
Compared to its pre-pandemic days, this iteration feels slightly conservative, but The Other Art Fair remains a space where, perhaps, talking does more than seeing. So grab yourself a cocktail to quell some of that social anxiety and dive into conversations that will satisfy your curiosities. "Can you tell me more about your work? is a good start.
The Other Art Fair runs until May 29 in Melbourne and will be held in Sydney from July 21-24.