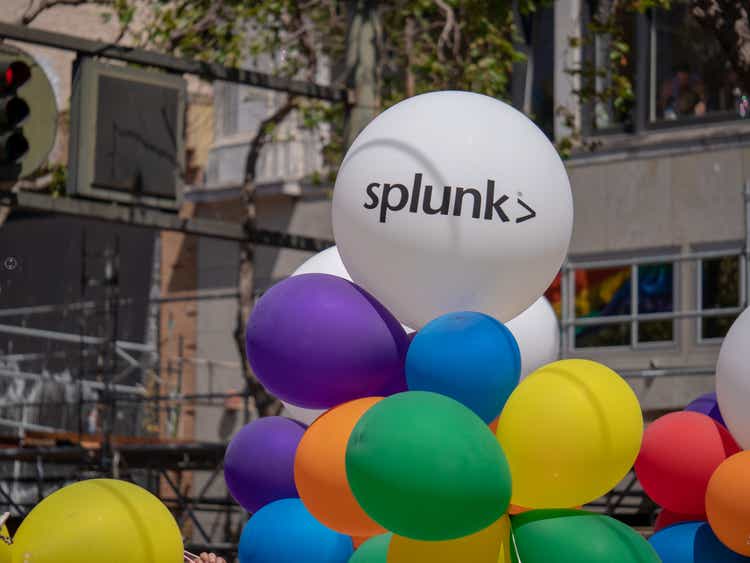 Splunk Stock: Buy It and Forget It (NASDAQ: SPLK)
As the market retreats deeper and deeper into correction mode, now is a great time for brave investors to play long in fantastic companies that are out of fashion. The mid-cap tech space, in particular, is packed with fundamental powerhouses which are trading at sell-off levels, and investors with cash to deploy can benefit from some truly compelling entry points.
Splunk (NASDAQ: SPLK) is a company that deserves a special mention. This machine data platform is one of the most prominent names in big data analytics, and its technology is an essential tool that helps companies derive insights from data already generated from their internal systems. Year-to-date, Splunk shares are down about 30% – more modest than most tech peers, but still not in line with the broad fundamental gains the company has made recently, including completing largely its transition to a subscription-based business model.
I'm staying bullish on Splunk. This is a fantastic company that now has a powerful ARR base, cutting-edge technology widely regarded in the industry, and on its way to becoming extremely profitable thanks to its rich gross margin profile and its operating leverage opportunities.
Here is a comprehensive overview of what I believe to be Splunk's main bullish drivers:
The use cases for Splunk are endless – In its early days, Splunk's machine data mining capabilities were often used for security purposes to report and respond to anomalies within enterprise systems. But as Splunk has evolved, the company's machine data capabilities are applicable in virtually every industry and across many functions.

Usage Based Pricing – Some of the best performing software inventory is usage-based, which means that revenue increases in proportion to the customer's use of the product. Splunk's platform is priced based on data volumes/compute power. As data volumes continue to explode and businesses push the boundaries of how they integrate data into operations and decision-making, Splunk has a tremendous opportunity to drive growth from its install base.

Splunk isn't without competitors, but the company's focus on machine data is unique. It is also the largest company in space. The company's closest large public counterparts are monitoring companies such as Datadog (DDOG) and New Relic (NEWR), which primarily focus on monitoring the performance and availability of applications and infrastructure. Splunk focuses on visualizing and analyzing machine data (information passively generated by computers, phones, and other endpoints within networks). We also note that Splunk's roughly $3.3 billion annual revenue scale makes it twice as big as its nearest competitor, Datadog.

Industry-Wide Recognition – More to the point above, it's good to have competition as Splunk is also widely regarded as the best in class vendor for machine data analytics. Gartner, the software industry's leading analyst and reviewer, awarded Splunk a "Leader" designation in the security information and event management space, and also named it the vendor with the most great execution capacity. These accolades do not come lightly to computer buyers when making a purchasing decision.

Significant opportunity for international expansion – Splunk has become a global brand, and it's time for Splunk to seek more overseas opportunities. Currently, only about 35% of its revenue base comes from international markets (and an even smaller slice of about 20% of cloud business is overseas). I see a significant opportunity for Splunk to expand its presence outside of the US
In the shorter term, note that Splunk is one of the only tech companies in the second-quarter earnings season to raise its full-year outlook. This is in stark contrast to many other tech stocks that have cut their full-year forecasts, citing a number of issues ranging from slowing trading cycles to currency pressures. It's important to note that one of the drivers here is that the weaker macro environment has caused many Splunk customers to delay their cloud migrations, leading to increased upfront license revenue.
Still, Splunk's valuation drop in light of these strong results is puzzling (it's only in sympathy with the rest of the market and doesn't make sense on a stand-alone basis). At the current share price near $80, Splunk trades at a market capitalization of $13.00 billion. After clearing the $1.79 billion in cash and $3.87 billion in debt on Splunk's most recent balance sheet, the company has the enterprise value is $15.08 billion.
The company's latest revenue outlook is $3.35-3.40 billion, representing 25-27% year-on-year growth, up two points on the high and low from its previous fork. It's also worth noting that the company expects pro forma operating margins now at 8%, six points higher than 2% in the year-ago quarter. ARR expectations are down, due to both currency conversion impacts and the aforementioned cloud migration delays.
According to Splunk's latest earnings outlook, the company is trading at 4.5x EV/FY23 turnover. If we look to FY24 (the year for Splunk ending January 2024), where the Wall Street consensus expects revenue growth of 19% year-over-year to $4.05 billion (data from Yahoo Finance), Splunk's multiples compress further to just 3.7x EV/FY24 revenue.
The bottom line here: Splunk is a known quantity in the software industry and trades at an incredible opportune multiple. Don't miss the chance to get into this stock at what I consider a very low risk price.
Download Q2
Now let's take a closer look at Splunk's latest Q2 results. The second quarter revenue summary is shown below:
Splunk's revenue rose 32% year-on-year to $798.8 million, well beating Wall Street expectations of $737.0 million (+22% year-on-year). The main driver here, as noted earlier, is higher-than-expected licensing revenue, due to customers lagging behind in their cloud transitions.
Still, we don't think there's any need to worry about the long-term viability of Splunk's recurring revenue buildup. Splunk further increased total ARR in the quarter to $3.33 billion, up 27% year-over-year, and added $121 million in net new ARR in the quarter.
And as the chart below shows, the company now has 723 customers that generate total ARR over $1 million, adding 33 such customers in the quarter (up from 15 in Q1).
Here are some helpful anecdotal comments from CEO Gary Steele on what the company is seeing from its end customers, during his prepared remarks on the second quarter earnings call:
We continue to see good customer engagement in the quarter with strong competitive win rates, consistent with what we have seen over the past two years, high net retention rate and good business momentum. We ended the quarter with 723 customers with total annual recurring revenue or ARR of more than $1 million, up 33 customers from last quarter and up 24% year over year.

Despite our strong revenue and results, our cloud ARR and total ARR fell short of our own expectations. This was largely due to the slowdown in a number of larger cloud migrations and expansions as customers became more cautious with their Q2 budgets. As many of our customers transitioned to shorter-term engagements with Splunk beginning in the second half of the quarter, this lower than expected cloud adoption resulted in lower Cloud ARR and therefore the total ARR.

Our customers tell us that they understand the importance of moving to the cloud and are staying on their path to migrate and expand their highly complex infrastructure over time. Cloud transformation is a time-consuming and cost-intensive strategy, as we've talked about on these calls, and we're keeping pace with our customers. Even given the short-term pressures, our competitively high success rates indicate that our customers continue to choose Splunk."
Outside of the top line, Splunk has also made great strides on the margins. Pro forma gross margins in the quarter increased sharply to 78.5%, up 340bps year-on-year; driven by an increase of nearly nine points in cloud gross margins to 69.3%:
Likewise, the company achieved a positive pro forma operating margin of 4% in the second quarter, an increase of twenty-four points from -20% in the second quarter of the previous year: reflecting the benefits of having a largely mature subscription transition. The company's pro forma operating forecast of 8% for the year is a big jump from the -8% the previous year.
Key points to remember
Splunk is one of the few fast-growing software companies that has grown large enough to allow for profit expansion. Take advantage of recent market pessimism to position yourself. The recovery may be slow, but I view Splunk's current multiple as a safe entry point.