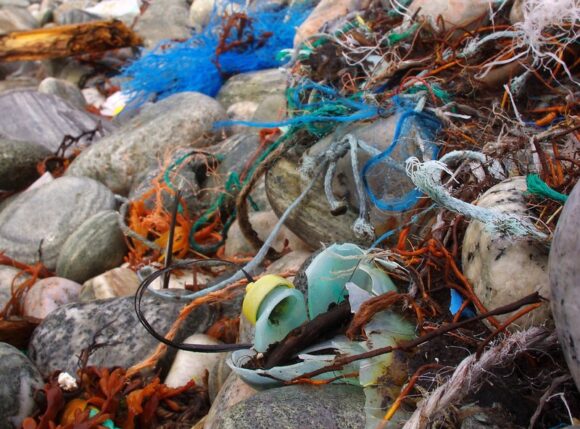 RTPEC offers a free presentation on 'plastic pollution in our oceans' on Thursday at Old Lyme
OLD LYME — The Roger Tory Peterson Estuary Center (RTPEC) offers a free presentation by J. Evan Ward, PhD., Professor and Head of the Department of Marine Science at UConn on Plastic pollution in our oceans: does it migrate through the food chain? The presentation will take place at the Old Lyme Town Hall on Thursday, October 27 at 5:30 p.m.
The sheer amount of large plastic materials introduced into our rivers, bays, and oceans has been well documented, and the damage these materials can cause to marine organisms is well known to conservationists. Billions of pounds of plastic have been found in around 40% of the world's oceans, an amount that could exceed all fish in the sea by 2050.
This pollution has a direct and deadly effect on wildlife. Thousands of marine mammals such as seabirds, seals and sea turtles are killed each year after ingesting or becoming entangled in plastic. Moreover, these macro-plastics also fragment into micro-plastic particles via weathering and UV degradation.
According to a report, more than 99% of the plastic that has entered the ocean since 1950 has sunk below the first hundred meters of the ocean. There are 10,000 times more microplastics on the seabed than in polluted surface waters.
These small particles can also interact with marine animals, especially those that filter food. The uptake and accumulation of microplastics by filter-feeding and bottom-feeding animals such as bivalves is unclear. It is also unclear whether the ingestion of microplastics by filter feeders leads to toxicological effects. This is the subject of Dr. Ward's research.
In his presentation, Dr. Ward will discuss the current understanding of plastic pollution in the ocean and its interactions with marine animals. He will present his research on the capture, ingestion, release and disposal of microplastics by commercially important bivalves.
The goal of this work is to understand the uptake of microplastics by marine animals, identify a robust bioindicator for plastic particles in the ocean, and examine the potential for transfer of microplastics through the food chain.
The free program will be interactive with an opportunity for participants to ask questions. There is no charge, but seating is limited and registration is required.
To register, go to https://www.ctaudubon.org/rtp-programs-events/
RTPEC celebrates its eighth year of briefings on environmental topics – each featuring a leading scientist focusing on a critical issue.
The second in this year's series will take place on December 1 and will include a presentation on sharks by renowned photojournalist Brian Skerry.
Professor and Head of the Department of Marine Science at UConn., Dr. Ward is an experimental biologist whose research interests are directed toward understanding the dynamic interactions between marine animals and their environment.
Using an integrative approach, he guides his students in the study of processes ranging from the organism to the ecosystem. He is particularly interested in the behavior and physiology of particle-feeding benthic invertebrates.
Much of his research focuses on commercially important bivalves (eg, clams, mussels, oysters), which are key components of most coastal ecosystems. These animals provide vital ecosystem services and are an important link between the oceans and human health.
Named for the renowned artist, science illustrator, environmental educator and conservation advocate, the Connecticut Audubon Society's Roger Tory Peterson Estuary Center is known for its work in education, conservation, research and defense of the environment.
The center is dedicated to facilitating scientific research, establishing high quality environmental education for children, adolescents and adults, and promoting awareness and advocacy to preserve, protect and conserve the estuary and its beauty for people. generations.
From its 5.25-acre site on the Lieutenant River in Old Lyme, the Center serves young people and adults from across the region in person and virtually, offering small-group programs like bird walks and prowling owls, a CT River Ecological Expeditions course, citizen scientist activities, vacation and summer camp programs, and a curriculum-based Science in Nature program for schools in southeast Connecticut.