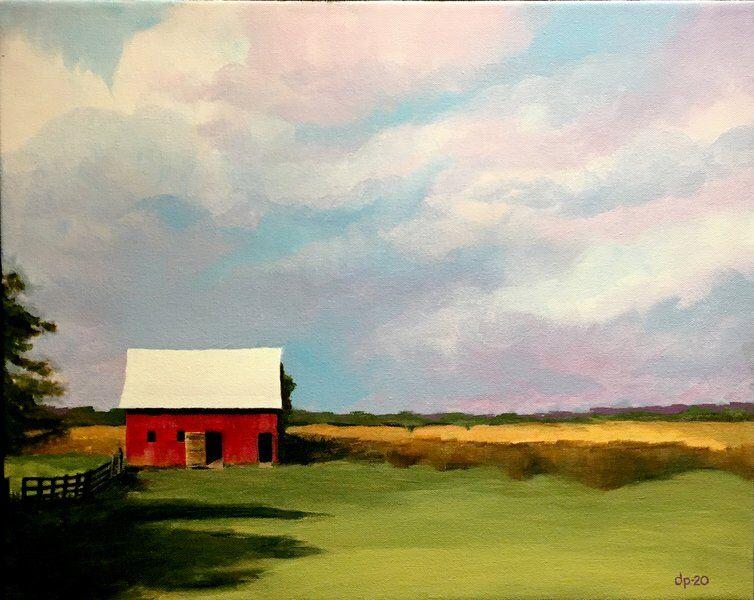 River City artist shares love for barns at library exhibit in October | Life in the valley
Dian Der Ohanian Phillips of Terre Haute will share his long-standing love for Hoosier barns in the River City Art Association's Artist of the Month gallery space in the Vigo County Public Library in the Seventh and Poplar streets.
"I love driving through the countryside and seeing the variety of barn types," said Der Ohanian Phillips, president of RCAA. The paintings in her exhibit show some of the barns she has recently connected with… visually and emotionally.
Der Ohanian Phillips has been designing and painting barns for over 50 years. The first example is an etching she created in July 1965. "Growing up in southern Indiana, I was very familiar with rural farmland scenes. So, for this first attempt at engraving, I remember drawing this scene from memory… a mansard-roofed barn with silo and overgrown field. It's an iconic image and one that obviously resonated in my young mind, "she said.
"The barns evoke a sense of tradition and community, and they also reflect local architectural styles," said Der Ohanian Phillips. "Some recognizable regional styles include Dutch, bank, nursery and round barns. The exterior color and decoration of barns also has historical and practical roots. The New England settlers did not have enough money to paint their farms, so they needed a cheap way to protect barn wood. They mixed skim milk, lime, and red iron oxide to make a red plastic-like coating. The siding protected the wood and kept the barns warmer in the winter. The color red quickly became the best known among farmers because it was the cheapest. The tradition continues today. However, Kentucky barns are mostly painted black as black barns increase the heat inside, making it easier to dry tobacco. Many got their color from creosote, which repelled termites. Sign painters also took advantage of the size and visibility of barns in an era before billboards. Chew Mail Pouch Tobacco signs were plentiful in the first quarter of the 20th century. "
Der Ohanian Phillips studied at the Herron School of Art in Indianapolis and earned a BFA in Visual Communication. She completed a master's degree program at Indiana University and did additional postgraduate work at Boston University. She was a graphic designer / art director for most of her professional life, but continued her artistic pursuits during these years by taking courses in drawing and painting. After her retirement, she returned to painting full time. She works mainly in watercolors, acrylics and oils. His paintings and black and white photos are heavily influenced by nature and rural scenes. His art can be found in private collections across the United States.
Visit www.facebook.com/DiandpArtist for more examples of the artist's work and RiverCityArt.org for membership details.