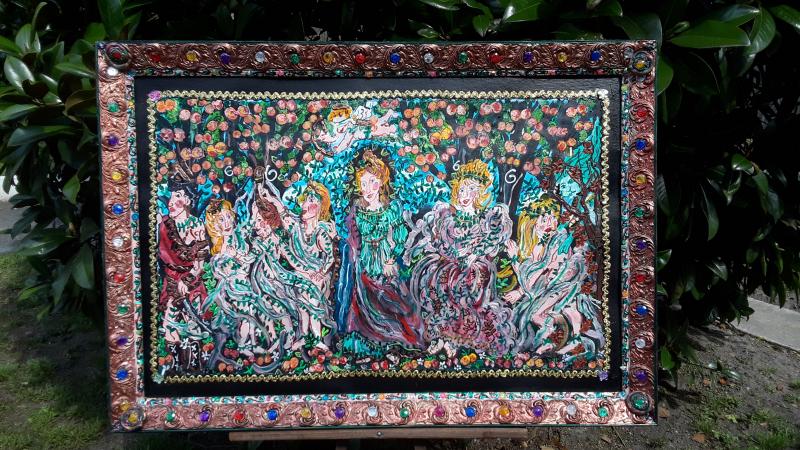 Early spring is my favorite time of year. Many people would guess October, with all its festive orange pumpkins, Indian corn and Halloween, and it's my second favorite season, but spring, with nature reaching out after a long winter siesta, is invigorating. It's still a little cold and not languidly too hot, but painfully beautiful. The days are unpredictable in March, which explains the legend that this month can come in like a lamb and come out like a lion. I like the energy of the winds that blow at night.
Shakespeare wrote, "When the daffodils begin to look, it is the best time of the year." Conversely, TS Eliot said, "April is the cruellest month." It could be said of March or April, for my beloved pink saucer magnolia is often fooled by a few warm days, and the pink buds begin to unfurl, only for the lion to return with a blast of icy cold air from howling winds. This happens more often than not. One year I looked out my window to see beautiful newborn rose buds framed against a cerulean blue sky. Overnight, they turned into brown fudgesicles.
Eccentrically and laboriously, and perhaps, ultimately in vain, the following year, when the forecast called for a frost and the tree had already bloomed, I wrapped small plastic sandwich bags around each flower to avoid a layer of frost. I had my husband Jeff, who is the essence of patience and much taller than me, throw plastic sheets over the entire arrangement and secure it with clothespins to the branches. One year, it really worked!
Every April in the 1950s and 1960s, the fishmonger would come to Milton. My mother would go downtown and pick out a magnificent shad, that harbinger of the vernal equinox, swimming upstream through warm waters. He would be hoisted up a ladder suspended from chains in the back of his truck. After being brought home wrapped in brown paper and tied with twine, it was dredged in cornmeal and baked, and served on a beautiful platter accompanied by fresh stalks of green asparagus for a feast festive spring. Shad roe is very popular and my dad, true to his east coast heritage, would relish this caviar. He also liked muskrat dinners.
My mother would go to church in big flowery hats, her head thrown back as the bees buzzed around her. There would be the Easter Parade on the boardwalk in Rehoboth Beach, followed by a pastel cellophane wrapped Easter basket, chocolate bunnies whose ears I just couldn't bite, yellow marshmallow chicks and large eggs chocolate covered coconut shells decorated on top. garnish with marzipan flowers.
Later there would be the May Fair at Milton Consolidated School, just as the lilacs were beginning to bloom, replacing the sweet scent of the blue hyacinths. There was a play, usually written and choreographed by my mother. All classrooms would be decorated with spring murals. One classroom I remember had a large screen painted like the ocean. We threw fishing rods at them and collected favors for our efforts.
One of my favorite paintings that really captures the essence of the first day of spring is Botticelli's "Primavera", which hangs in the Uffizi Gallery in Florence, Italy, birthplace of the Renaissance. It represents the early morning in the forest of the Hesperides. To the right is the cold spring wind, Zephyr, embracing the earth nymph Chloris. She will metamorphose into Flora, who sprinkles the countryside with flowers.
In the center is Venus, goddess of love, and above her son Cupid points his amorous arrows into the glade. The Three Graces dance around an imaginary Maypole. The god Mercury examines the succulent fruits hanging heavily from the verdant trees.
I have often wondered if great artists of the past consciously used symbolism, or was it read into their work by later scholars because they were great and stood the test of time? Here it is quite obvious. The characters are figures from mythology that we have heard of since the earliest Greeks and Romans. I can imagine Botticelli's studio with the door open to a Florentine spring in 1485, and mine is still open here in my own backyard in Milton. Just to try and relive it all, I painted my own "Primavera".
My favorite room in my rose house in Milton is the dining room, where shad dinners were held many spring equinoxes ago. My mother lined the walls with peach-laden paper, and we added a burgundy Bacchanale rug. The 'Primavera' wouldn't fit where an old print of a wild turkey has always hung, a brown tribute to Thanksgiving, but a painting I did of peach trees adorns my little spring dining room, where I can celebrate pink tree season all year round.