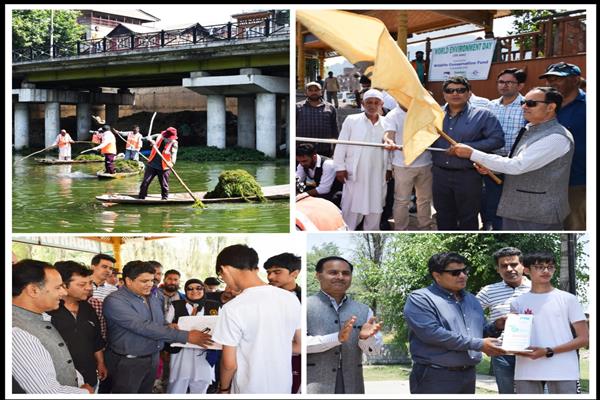 Ministry of Tourism celebrates Environment Day across Kashmir
Stakeholders, young people must preserve a fragile ecology, an environment for safe and responsible tourism: Tourism Secy
SRINAGAR, JUN 05 (KNS): The Ministry of Tourism celebrated World Environment Day today with a host of activities across the Kashmir Valley.
The important feature of this year's celebration was the collaboration and involvement of stakeholders and relevant civil society groups in cleanliness campaigns, planting saplings, holding painting exhibitions and other art exhibitions, cycling events and nature walks in various destinations with the commitment to preserve the fragile ecosystem and environment for safe and responsible tourism.
Major functions in this regard were held at Zabarwan Park in Srinagar, Nigeen Club, Pahalgam, Gulmarg, Sonmarg, Verinag, Eco Park Baramulla, Yousmarg, Manasbal, Doodpathri and Ahrabal.
At Zabarwan Park, where the main ceremony was held in collaboration with J&K Chapter of Bharat Scouts and Guides and local speaker, Secretary of Tourism, Sarmad Hafeez was the main guest who handed out prizes to the winners of an art competition held on the waters of Dal Lake. .
Speaking on the occasion, the Secretary for Tourism said that the Department had thought of celebrating Environment Week this year in collaboration with tourism stakeholders and concerned groups to make it a popular movement so that the environment is saved not for the present but for generations and times to come. He said that by preserving the fragile ecology of tourist destinations, we are not only protecting the livelihoods of service providers, but also preserving these green gifts for our future generations.
Kashmir Tourism Director, Dr GN Itoo, who then launched a student nature walk, and other officers from the department were present on the occasion.
Bharat Scouts & Guides had collaborated with the Department for today's function in all Kashmir destinations.
Earlier, the Tourism Secretary reported on a clean campaign in Dal Lake from Ghat No. 01. The clean campaign was organized in collaboration with Lake Conservation & Management Authority (LCMA) and a Mumbai-based group working for the nature conservation, Sanctuary Plus and MakeMyTrip Foundation. .
Sarmad Hafeez along with officers and representatives of these organizations toured Dal Lake through Tchunte Khul, Chinar Bagh and Nehru Park. He thanked the stakeholder groups and NGOs who had volunteered to collaborate with the Department in celebrating today's event.
The Tourism Secretary advised the Department to be in collaborative mode with these NGOs not only on these events, but to continue as a regular feature to keep tourist destinations clean and safe. He urged all visitors, tourists and other locals to ensure that no rubbish of any kind, especially plastic materials, is thrown into Dal Lake or any other places in the tourist destinations.
Similar functions also took place in other destinations.
In Gulmarg, a sanitation campaign was carried out in the bowl in addition to a plantation walk and a bicycle ride to the tourist destination.
In Sonmarg, a major cleanliness campaign was organized today in the meadows of Sonamarg. The journey passed through the Sonamarg market, the bus station and Fish Point.
Employees of the SDA, the association of hoteliers Sonamarg, merchants and residents participated in the collection and collected the waste, including polythene, plastic bags and plastic bottles from these places, which then been discarded for proper disposal at a solid waste management plant set up in Sarbal Sonamarg.
Similar functions to mark the day were held at Verinag, Eco Park, Baramulla, Ahrabal and other destinations where officials from the Department of Tourism and representatives from respective district administrations and representatives from local tourism stakeholders jointly organized sanitation campaigns, organized art competitions and cycle rallies. .(KNS)