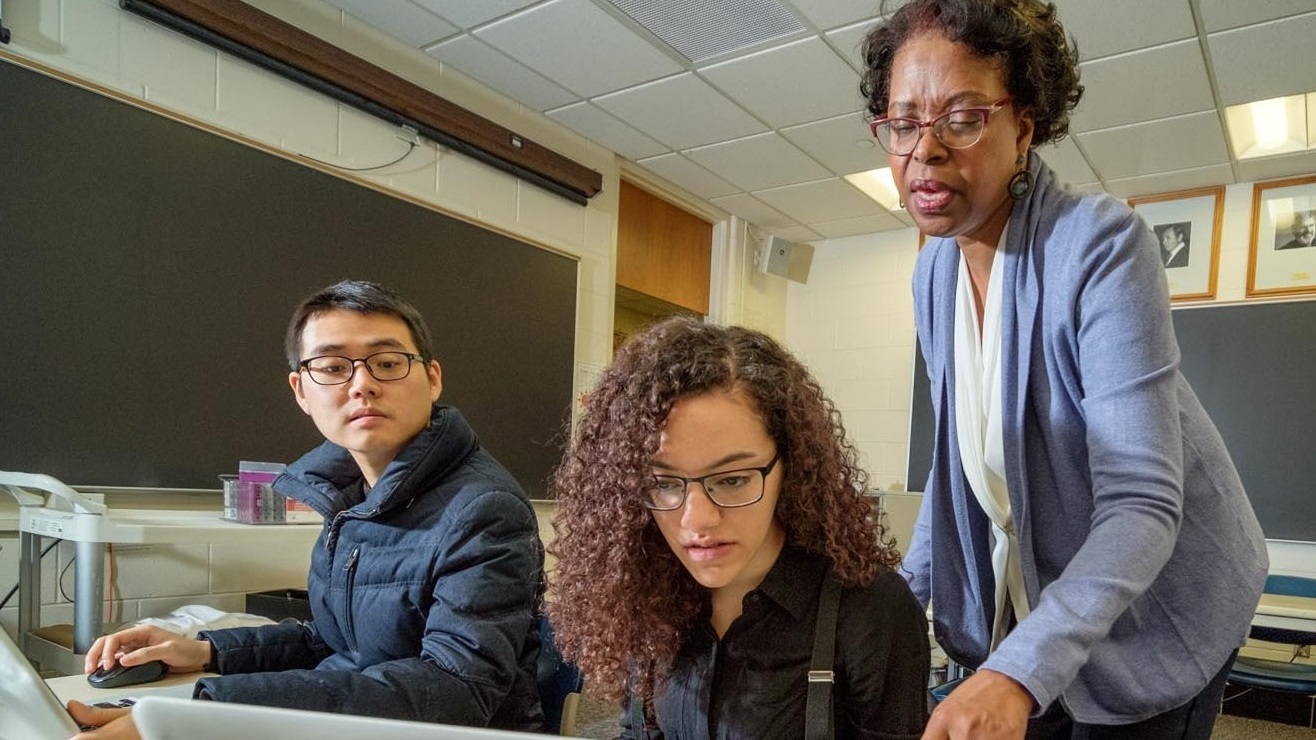 K honors 10 faculty members as endowed presidents
Kalamazoo College has appointed 10 faculty members as endowed chairs, recognizing their achievements as professors. Endowed Chairs are positions funded by annual income from an endowment or donation to the College. The honor reflects the value donors place on the excellent teaching and mentoring that occurs at K and how much donors want to see that excellence continue.
The winners are:
Francisco Villegas, junior president of the Arcus Center for Social Justice Leadership;
Leihua Weng, the oldest Chinese faculty member;
Cyndy Garcia-Weyandt, Chair in Critical Ethnic Studies;
Alyssa Maldonado-Estrada, holder of the Marlene Crandall Francis Chair in Human Sciences;
Kathryn Sederberg, the chair endowed with stone Lucinda Hinsdale;
Regina Stevens-Truss, Dorothy H. Heyl Senior Chair in Chemistry;
Blakely Tresca, Harriet G. Varney Chair in Natural Sciences;
Amy Elman, William Weber Chair in Social Sciences;
Autumn Hostetter, the Kurt D. Kaufman chair; and
Richard Koenig, the Genevieve U. Gilmore Chair in Art.
Francisco Villegas
Villegas, assistant professor of sociology at K, taught sociology at the University of Toronto Scarborough from 2014-2016 before coming to Kalamazoo.
Villegas specializes in the themes of immigration, race, citizenship, deportation and illegality. He holds a doctorate in sociology of education from the Ontario Institute for Studies in Education at the University of Toronto, an MA in Mexican-American studies from the University of San Jose, and 'a bachelor's degree in psychology and social behavior from the University of California at Irvine.
Kalamazoo County launched a community identification program in 2018, allowing residents to obtain it, including those who would otherwise not be able to obtain a state ID card, with Villegas being the chairman of the advisory board of identification. At this point, more than 3,000 residents have obtained one. Students at Kalamazoo College, through a partnership with the Center for Civic Engagement, participate in a work-study program supporting the program and learning about policy implementation
Leihua Weng
Weng, Assistant Professor of Chinese Language and Literature, taught K Beginner Chinese and Advanced Chinese, as well as various English content courses, such as Women in China, Urban China, and Chinese Movies.
Weng's research interests include (trans-) nationalism and globalization in literature and films, traditions and modernity, and postmodern literary theories. She got her doctorate. in Comparative Literature from the University of South Carolina, a Master of Arts from Peking University, and a Bachelor of Arts from Zhejiang University. She taught at Sarah Lawrence College and Pacific Lutheran University before coming to K.
Cyndy Garcia Weyandt
García-Weyandt, Assistant Professor of Critical Ethnic Studies, taught K in environmental studies such as body, land, and work; and Plant Communication Kinship, as well as critical ethnic studies courses such as Argument with the Given, a writing seminar exploring dreams, storytelling, poetry, artistic activism, memories, and personal narratives as sources of knowledge and social change. She is coordinator and co-founder of Taniuki project ("Our Language Project"), a community project in Zitakua, Mexico.
In Taniuki, she collaborates with urban Indigenous communities in language revitalization efforts. His research areas include indigenous knowledge systems, land pedagogy, urban indigenous peoples of Mexico, indigenous art and performance, and ontology. García-Weyandt's ancestral homeland is San Juan Sayultepec Nochixtlán, Oaxaca, Mexico. She is a poet, an immigrant, a first generation student and a former transfer student to a community college. She has a doctorate. and a master's degree in culture and performance, and a bachelor's degree in anthropology, all from the University of California, Los Angeles.
Alyssa Maldonado-Estrada
Maldonado-Estrada, assistant professor of religion, is the author of Lifeblood of the Parish: Men and Catholic Devotion in Williamsburg, Brooklyn, an ethnography on masculinity and the devotional life of men in a gentrified New York neighborhood. She teaches K on religion and masculinity, urban religion, Catholics in the Americas, and religions in Latin America.
Apart from K, Maldonado-Estrada is Co-Chair of the Men and Masculinities Unit of the American Academy of Religion and Editor of Material Religion: The Journal of Art, Objects, and Belief. She was also chosen for the 2020-2022 cohort of young researchers in American religion at Indiana University-Purdue University Indianapolis' Center for the Study of Religion and American Culture.
Earlier this year, Sacred scriptures—A network of scholars of religion committed to helping a broad global audience understand the importance of their work — chose Maldonado-Estrada to be one of 24 scholars from around the world to receive a public scholarship on religion for 2021. Maldonado-Estrada received his doctorate in religion from Princeton University and his bachelor's degree in sociology and religion from Vassar College.
Catherine sederberg
Sederberg, co-chair of the Department of German Studies, will be honored in a virtual ceremony on November 20 by the American Association of German Teachers (AATG) as one of five national recipients of the Goethe Certificate of Merit. Institute / AATG. The honor recognizes his achievements in promoting the teaching of German in the United States through creative activities, an innovative curriculum, successful course design and meaningful contributions to the profession.
Sederberg teaches beginner, intermediate and advanced German as well as contemporary German culture and senior seminars on a variety of topics. She holds a BA from St. Olaf College and a PhD. from the University of Michigan.
Regina Stevens-Truss
Stevens-Truss, Professor of Chemistry and Biochemistry, has taught at Kalamazoo College since 2000. She teaches Chemical Reactivity, Biochemistry, Medicinal Chemistry, and Infections: Global Health and Social Justice.
Research in his lab is focused on testing a variety of compounds (peptides and small molecules) for antimicrobial activity. She is also the current Director of the Howard Hughes Medical Institute's Inclusive Excellence Grant awarded to the College's Scientific Division in 2018.
Stevens-Truss received a bachelor's degree from Rutgers University and a doctorate. in Medicinal Chemistry from the University of Toledo. She held two scholarships at the University of Michigan between 1993 and 1999, including one in medicinal chemistry.
Blakely Tresca
Tresca, Assistant Professor of Chemistry, has been at K since 2018. He is a supermolecular chemist with additional research interests in organic chemistry. He co-leads the college's annual Kalamazoo American Chemical Society networking event, allowing students to discuss careers in chemistry with industry professionals.
Tresca holds a bachelor's degree from Trinity University, a master's degree and a doctorate. from the University of Oregon. He was a postdoctoral researcher at the Lawrence Berkeley National Lab at the Molecular Foundry.
Amy elman
Elman, professor of political science, has taught a variety of courses in the departments of political science, feminist studies and Jewish studies. During her tenure at K, she was also a visiting professor at the University of Haifa in Israel, Harvard University, SUNY Potsdam, Middlebury College, Uppsala University in Sweden, and the New York University.
Elman received two Fulbright Fellowships, a National Endowment for the Humanities Fellowship and a Sassoon International Center for the Study of Antisemitism Fellowship at Hebrew University. She wrote three books: The European Union, anti-Semitism and the politics of denial (2014) ; Sexual equality in an integrated Europe (2007); and Sexual Subordination and State Intervention: A Comparison of Sweden and the United States (1996). She also edited Sexual policy and the European Union: the new feminist challenge (1996). She holds a bachelor's degree from Brandeis University and a master's and doctorate. from New York University.
Fall hostess
Hostetter, professor of psychology, has expertise in cognitive psychology, particularly in the psychology of language and spatial cognition. She taught K, including cognition, experimental research methods, psychology of language and mind, and the first year Harry Potter Goes to College seminar.
She maintains an active research lab on campus exploring how we use our bodies to help us think and communicate. It offers many opportunities for students of Kalamazoo College to participate in research, both as participants and research assistants. Some recent publications have appeared in journals such as the Psychonomic Bulletin and Review, Psychological Research, the Quarterly Journal of Experimental Psychology, Teaching of Psychology, and the Journal of Nonverbal Behavior. Several of his publications feature students and alumni of Kalamazoo College as co-authors. Hostetter received a bachelor's degree from Berry College and a doctorate. from the University of Wisconsin-Madison.
Richard Koenig
Koenig began teaching art and photography courses such as digital photography, analog photography, alternative photographic processes, and several seminars at K in 1998.
His artwork, Photographic Prevarications, has been featured in six solo exhibitions in as many years (2007-2012). Koenig's long-term documentary project Contemporary Views Along the First Transcontinental Railroad spawned four articles (between 2014 and 2019). In 2020, Koenig collaborated with four others on a multimedia exhibition, Hoosier Lifelines: Environmental and Social Change Along the Monon, 1847-2020, which was presented this year at the Grunwald Gallery of Art at Indiana University and at the Carnegie Center for Art and History in New Albany, Indiana.
Koenig received his BFA from the Pratt Institute and his MFA from Indiana University.