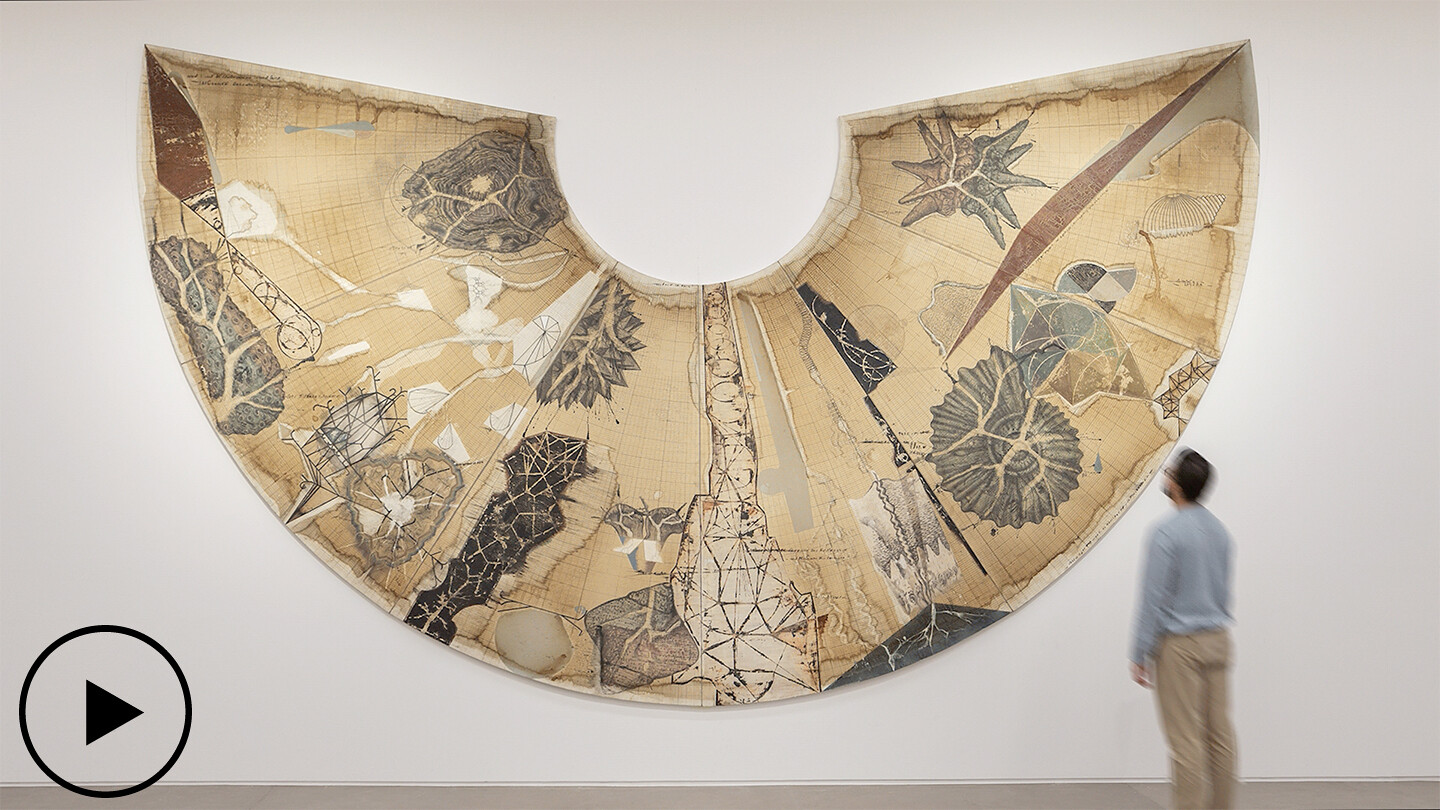 Jitish Kallat: Order of Magnitude – Announcements
Ishara Art Foundation opens 2022 with Magnitude by Jitish Kallat, the artist's first major solo exhibition in West Asia and the Levant.
Featuring new works including paintings, multimedia installations, drawings and site-specific interventions, the exhibition reflects Kallat's deep reflections on the interrelationship between the cosmic and the earthly.
Jitish Kallat's work lies between fluid speculation, precise measurement and conceptual conjecture producing dynamic forms of image making. Using abstract, schematic, notational and representational languages, he addresses different modes of addressing, seamlessly interweaving the immediate and the cosmic, the telescopic and the microscopic, the past and the present. In Magnitudethere is a contemplation of global interconnectivity on the individual, universal, planetary and extraterrestrial dimensions.
The spectator is first confronted with Studies of whole objects (drawings from life), which traverse space resembling both the horizon and the equator. Since the beginning of 2021, Kallat has followed a ritual of making a daily drawing as part of a long-term study in graphite, watercolor pencil and gesso stains. Each work includes various forms anchored by the same three sets of numbers: the algorithmically estimated world population, the number of new births, and the number of deaths at the particular time the work was created. Human life and death are abstracted in drawings that are both graphic and pictorial, raising questions of extinction and evolution.
Next to these studies is a mural titled Postulates of a restless ray, whose perimeter takes the form of the Albers conical projection of the Earth. The work begins with an unstable cross-sectional grid (in watercolor pencil) that opens the globe onto a flat plane. There is no cartographic intent here; instead of planetary geography, it assembles signs and speculations, evoking botanical, suboceanic, celestial and geological formations at the same time. Postulates of a restless ray is an exploratory abstraction of shapes that suggest signatures of growth and entropy.
In the center are three double-sided and multiscopic photographic works entitled Epicycles. This series began at the start of the pandemic in 2020 with a hand-drawn diary capturing minute changes in Kallat's studio – such as cracks surfacing in the walls. Kallat integrates these fortuitous encounters with emblematic images of family of man exhibition curated by photographer Edward Steichen at MoMA, New York, in 1955. The resulting prints combine the artist's daily observations with archival images of human solidarity taken by photographers around the world. Meticulously composed on a lenticular surface, the figures depicted appear and disappear as one moves through the work, giving a complex portrait of time in its transience and transience.
A new iteration of Kallat's immersive installation Cover letter (terranum nuncius) occupies Ishara's mezzanine. Images from the Golden Records that traveled on NASA's Voyager 1 and 2 space mission in 1977 sit on shelves along two opposite walls. Placed inside programmed LED frames, 116 parallax prints flicker at a breath-like cadence. They include scientific, anatomical and cosmological diagrams as well as flora, fauna and architecture, in an attempt to encapsulate a summary of life on Earth. Permeating the exhibition space are the sounds of greeting to the universe that were on the Golden Records in 55 languages. As the two Travelers continue their journey through space, now more than 22 billion kilometers from Earth, this work recalls an epic presentation of "our" world to an unknown other. At a time when we find ourselves in a deeply divided globe, Kallat puts forward these images and reverberations for a collective meditation on ourselves as residents of one planet, where the "other" is an "extraterrestrial intergalactic" unknown.
Obsolete map of our cosmic neighborhood, the return address indicated on the Records is projected within the installation in front of a bench in the shape of a Apocalyptic clock. The symbolic clock offered by the Bulletin of Atomic Scientists is reset every year, representing our growing proximity to a hypothetical man-made global catastrophe expected to strike at midnight.
Finally, an in situ intervention by the artist entitled NESW serves as an allusive clue to the reading of this exhibition. Integrated into the architecture of the foundation, a functional magnetic compass is inserted into the flooring. NESW summons the cardinal directions of the Earth, aligned with unseen force fields, transforming both the exposition and Ishara into devices for planetary surveying.
Jitish Kallat: Order of magnitude will be accompanied by physical and virtual tours, educational and public programs, new text commissioned by Amal Khalaf, and artist conversations throughout the duration of the exhibition.
Exhibition logistics supported by Galerie Templon, Paris and Nature Morte, New Delhi.
Jitish Kallat was born in 1974 in Mumbai, the city where he continues to live and work. His solo museum exhibitions include such institutions as the Art Institute of Chicago (Chicago), Dr. Bhau Daji Lad Mumbai City Museum (Mumbai), Ian Potter Museum of Art (Melbourne), Frist Art Museum (Nashville ), the Art Gallery of New South Wales (Sydney) and the Philadelphia Museum of Art (Philadelphia). In 2017, the National Gallery of Modern Art (New Delhi) presented a mid-career study of his work titled Here After Here 1992-2017, curated by Catherine David. He has exhibited extensively in museums and institutions such as Tate Modern (London), Martin-Gropius-Bau (Berlin), Gallery of Modern Art (Brisbane), Kunstmuseum (Bern), Serpentine Galleries (London), Mori Art Museum (Tokyo ), BOZAR: Center for Fine Arts (Brussels), Pirelli Hangar Bicocca (Milan), Busan Museum of Art (Busan), among others. Kallat's work has been featured in Havana Biennial, Gwangju Biennial, Asia-Pacific Triennial, Fukuoka Asian Art Triennial, Asian Art Biennial, Curitiba Biennial , the Guangzhou Triennale and the Kiev Biennale. Kallat was curator and artistic director of the 2014 Kochi-Muziris Biennale. He curated the recently completed exhibition I draw, therefore I think for the South-South Platform in 2021.
Ishara Art Foundation was founded in 2019 as a non-profit organization dedicated to showcasing contemporary South Asian art. Based in Dubai, the Foundation supports emerging and established practices that advance critical dialogue and explore global interconnections. Guided by a research-driven approach, Ishara achieves its mission through exhibitions, on-site and online programs, educational initiatives, and collaborations in the UAE and abroad. The Foundation facilitates exchanges between South Asian and international artistic networks that include museums, foundations, institutions, galleries and individuals.
Ishara Art Foundation is presented in partnership with Alserkal.