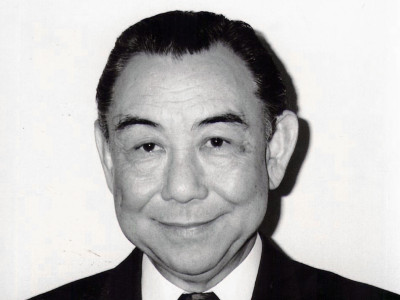 In Memoriam: Life Trustee Anthony YC Yeh G'49, an innovator at the intersection of engineering and business
After earning a master's degree in mechanical engineering from the College of Engineering and Computer Science, Anthony YC Yeh G'49 returned to his homeland determined to help the crowds of refugees fleeing to Hong Kong from mainland China. He had a brilliant mind, a spirit of innovation and a deep understanding of the intersection of engineering and business that helped him create an international company that provided bespoke carpets to Queen Elizabeth II, President John F. Kennedy, the King of Thailand and others. notables.
While building a global business, Yeh never lost his fondness for Syracuse University. He had been active on campus as a graduate student, as president of the Chinese Students Club, and as a junior member of the American Society of Mechanical Engineers. He was first elected to the board in 1994, serving six years as a voting director. He was recognized for his business acumen with the Arents Award in 1992, the highest honor given to alumni for their professional achievements. Yeh died on February 24, 2022, just two months before his 99th birthday.
"Tony has been instrumental in building Syracuse's relationship with China, ensuring Chinese and American students understand the importance and nuances of the global economy," said Board Chair Kathleen A.Walters '73. "He forged a partnership between the Maxwell School of Citizenship and Public Affairs and the China National School of Administration (CNSA) that has continued to thrive for nearly three decades."
Yeh's connection to Syracuse University began after earning a bachelor of science degree from the Henry Lester Institute of Technical Education in Shanghai, China in 1945. While working on a master's degree at Syracuse, he served as a technician and engineer in the US Army Air Forces. Kiangwen Air Base in Shanghai and aboard China Maritime Customs patrol vessels. Her career in the cotton industry began after earning a master's degree. With colleagues from a Hong Kong-based cotton grower, he started a carpet business in 1956 in Hong Kong with the avowed aim of providing jobs for Chinese refugees.
Yeh served as the general manager of Tai Ping Carpets and used his engineering prowess to create and patent an electric hand-held tool that tufts elaborate rugs 100 times faster than hand-tying. According to the company, Yeh developed the techniques of hand-tufting carpets, which led to the successful commercialization of the product. He helped form alliances with other Asian partners and establish international sales subsidiaries, leading to the formation of the globally recognized group Tai Ping group of today's bespoke rugs. Tai Ping has showrooms in New York, Los Angeles, London, Paris, Milan, Hong Kong and Shanghai.
Yeh was also a partner in Suntec City Singapore, a major mixed-use development at the Marina Center that has established Singapore as an international convention and exhibition center.
Together with his wife, Sylvia, Yeh established the Anthony YC Yeh Endowed Beijing Scholarship and the Anthony YC Yeh Endowed Undergraduate Scholarship. They supported other initiatives at the College of Arts and Sciences, College of Engineering and Computer Science, Maxwell School of Citizenship and Public Affairs, College of Visual and Performing Arts, Goldstein and Alumni Faculty Center, at the Hildegarde and J. Myer Schine Student Center, Syracuse Abroad and Alumni Relations.
Notably, as part of Yeh's efforts to provide a global experience for Chinese and American students, he served as a member of the Board of the Chinese University of Hong Kong (CUHK). CUHK is a comprehensive research university with offerings in English, Cantonese, and Putonghua (Mandarin). It is a worldwide partner with Syracuse and requires an application from Syracuse Abroad and CUHK. the Chinese University of Hong Kong, Shenzhenthe program is available to undergraduate students at the Martin J. Whitman School of Management.
Yeh is survived by his wife, Sylvia; two sons, Kent and Russell Yeh; two daughters, Lucienne Cheng and Monique Poon '74 (David B. Falk College of Sport and Human Dynamics); and eleven grandchildren and six great-grandchildren.
About Syracuse University
Syracuse University is a private research university that advances knowledge across disciplines to foster breakthrough discoveries and small group leadership. Our collection of 13 schools and colleges with over 200 customizable majors bridges the gap between education and action, so students can take on the world. In and beyond the classroom, we connect people, perspectives, and practices to solve interconnected challenges with interdisciplinary approaches. Together we are a powerful community that moves ideas, people and impact beyond what is possible.