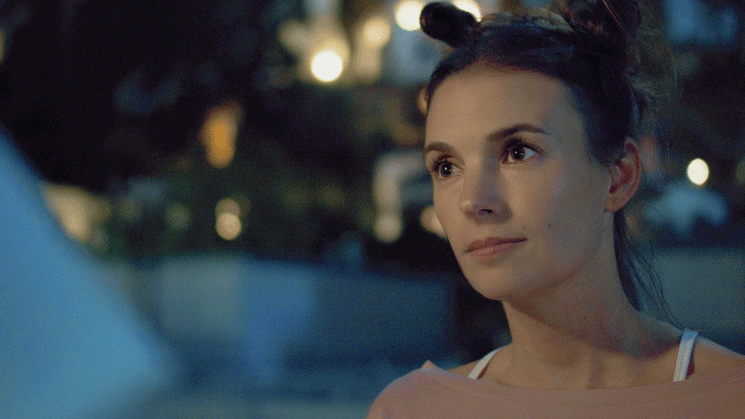 Former Mechanicsville resident actress stars in psychological thriller | Arts and entertainment
When she was little, Dana Chapman always directed skits for family and friends. The pay wasn't great – nothing, actually – but it lit the fuse for her to pursue an acting career.
"I kind of got into it and loved it," said Chapman, a 2002 Chopticon high school graduate. "I didn't want to do anything else. It was just singing and acting and being on stage.
Chapman recently hit the big screen in "Ghost Light," released Jan. 26.
The psychological thriller directed by Gabriel Saint tells the story of an opportunist and liar who puts on a play in a theater to impress an actress, but becomes obsessed with the theater's murderous past.
"I looked at the script and said, 'Yeah, I wanna do that,'" Chapman said of the movie, which was written by Saint and Derrick Denicola. " I worked with [Denicola] before, so every time he wants to take me on a project, I know it's going to be something fun, something interesting.
Chapman plays the role of Franny, a cautious but supportive roommate.
"She just has that presence on the set and is very upbeat and enthusiastic," Denicola said. "She walked in, and it shows how professional she is, she just had a baby [15 months earlier] and it's a new mom who shows up on time and supports an independent film crew, then brings every scene out of the park.
In one scene, Franny climbs a fire escape ladder in the middle of the night to bring her friend down from the roof.
"It was a little scary because it was so high," Chapman said. "But once you got up there you forgot [everything else] because the views of LA are always breathtaking.
Chapman, who grew up watching horror movies with his father, said his favorite scenes are in the theater "because that's where the fun things happen, this is where the gore happens." .
As well as performing for friends and family, Chapman's acting chops got another boost years later when she was in Port Tobacco Players' 1920s musical "Lady, Be Good" .
"It was that one [role] where I was like, 'Yeah, I do that,' "she said.
In 2006, hours after graduating from Temple University, she and her then-boyfriend, Rian Chab, crammed into her 2000 Lexus with $ 500, a plastic garbage bin of clothes, and a few credit cards. 'gasoline and traveled to Los Angeles using MapQuest impressions so she could intern in the industry.
Over the years, she landed commercials for Ford, Nissan, Sears, Marriott Hotels and McDonalds. She was the double of Kelly Clarkson in the 2017 "Never Again" music video and starred in the Old Dominion music video for "Break Up With Him". She also did two appearances on "Young and the Restless; She portrayed Delia, and in the other, her character Rachel was killed in a bathtub.
"It's all fake," said Chapman, who wore a flesh-colored costume in the scene, "and there are all these people all around you a few feet away so you never feel alone or scared."
But there were also lean years.
When Rian returned to Los Angeles six months later, the couple slept on a mattress on the floor for a year because they couldn't afford a bed frame.
"I feel like this is my biggest achievement," she said, "watching what [Rian and I] must have where we are now.
Chapman also had regular jobs as a bartender and cocktail waitress, and even worked at the House of Blues for eight years.
"It took me a long time to settle down and there were a lot of lulls and ups and downs and a lot of tears," she said, "but there were a lot of big ones. things that happened so I think the greatest thing I can say is that I did as a working actor.
Chapman and Chab – La Plata High School graduates and professional golf trainer – have a 2.5-year-old son, Locker.
Although she made her mark on the LA film scene, she said every day is a struggle.
"Oh my God, I'm still rejected everyday and cry about it," she said. "It's like every day, every week, you are constantly interviewing every time."
Chapman and his creative writing partner Tommy Germanovich are set to start recording a podcast on a series they produced called "Soon or Never," a comedy starring a bunch of struggling actors in a band. Support. Most of the stories were taken from the duo's actual experiences.
Chapman and Germanovich are also currently writing a film script for an untitled dramatic comedy.
Twitter: @MichaelSoMdNews