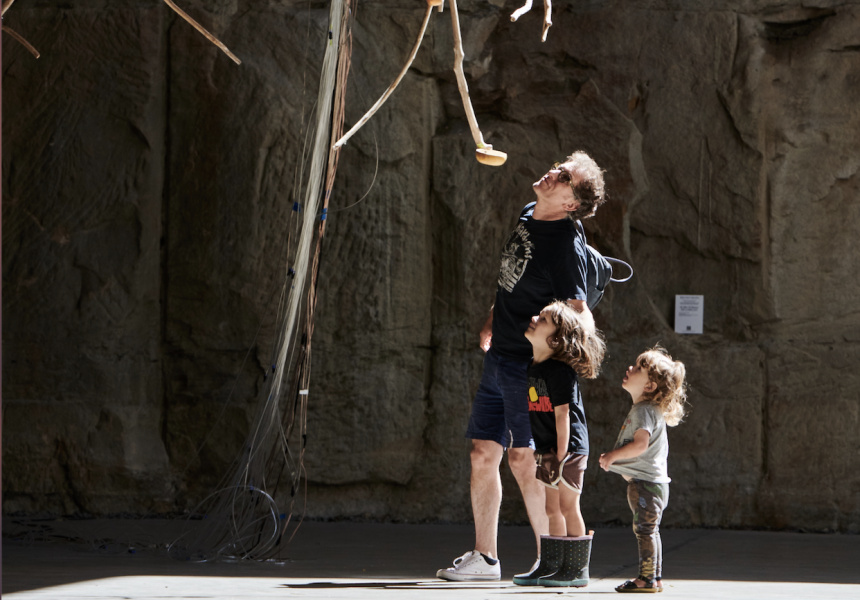 Family Day at the Biennale of Sydney
From yoga to interactive performances, there's a strong program for all ages at Biennale of Sydney 2022.
The 23rd Biennale of Sydney is a celebration of global inclusiveness, hosting a series of "conceptual wetlands and imaginary ecosystems" populated by artworks, public programs and experiences.
From March 12 to June 13, the exhibition – which is called River – will transport visitors through works scattered around Sydney, including Art Gallery of New South Wales, Arts and Cultural Exchange, Barangaroo, Museum of Contemporary Art Australia, National Art School in partnership with Artspace, The Rocks and Pier 2/3 at Walsh Bay Arts Precinct. The Cutaway at Barangaroo, will be the basis of the public program of the Biennale, The water houseoffering daily events and experiences during the 94 days of the exhibition.
The first Saturday of the month throughout the duration of RiverFamily Day events will invite children, parents and friends to participate in a variety of activities that explore space, art and place at The Cutaway.
Curious children will have the opportunity to learn how to recycle with Sydney-based organization Defy Design. They will house a portable "mini factory" to clean, sort, shred and mold plastic waste and turn it into something useful. It is a tactile way of teaching younger generations the possibilities of creating new plastic systems.
Yoga teacher Beth Borowsky will lead a yoga session for children ages 4-8 combining traditional techniques with breathing exercises and stories that encourage mindfulness.
Artist Nadia Odlum will host Interpret this, a hybrid workshop-event combining drawings and interactive games. Participants will engage in experimental and playful movements, which will ground them in visual arts, dance and architecture.
Family Day will take place from 10 a.m. to 10:30 a.m. on April 2, May 7 and June 4. Tickets range from $8 to $15.
More information.
This article is produced by Broadsheet in partnership with the Biennale of Sydney.