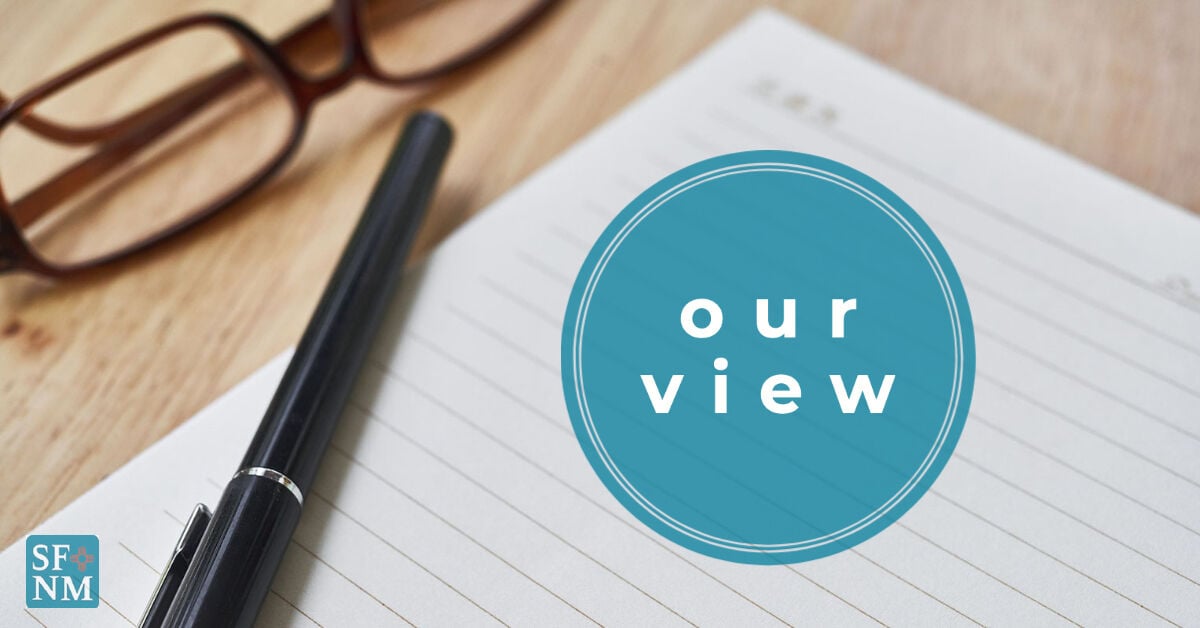 Crunch time: the last days of the legislature | Editorials
The end is near – the 2021 legislative session wraps up at noon on Saturday, with a lot of work to do.
In the coming days, lawmakers must complete the $ 7.4 billion budget, still the top priority of any session. The initially grim situation has improved, both because of a rise in the price of a barrel of oil and because the US bailout is sending billions to the state of New Mexico, local and tribal governments to help fight vaccinations, reopen schools, close budget deficits, fund unemployment benefits, pay for COVID-19 tests and meet other needs exposed during the pandemic.
Easing financial strains will help ensure that the Legislative Assembly can address the top priorities. That's what the next few days are for – it's shaping up to be a substantial legislative session. Here are some remaining priorities to address:
Get the governor on legislation to create the Office of Broadband Access and Expansion, Senate Bill 93, so the state can develop a plan to connect more of New Mexico to Internet. Federal dollars, as well as public funds, are available now, but to get them New Mexico needs a strategy and the people to execute it. The difficulties faced by so many New Mexicans in connecting to the internet during the pandemic make it clear that the lack of broadband is holding us back.
Cap interest rates for short-term loans at 36% by passing Senate Bill 66.
Pass the Roxy Law, Senate Bill 32, the Wildlife Conservation and Public Safety Act, to end the cruel practice of trapping on public lands. It will be a boon to New Mexico's image out-of-state and to our growing outdoor recreation industry.
Endorse the Healthy Workplaces Act, House Bill 20, to provide paid sick leave, ensuring that working men and women do not have to choose between their health or their wallet. This is revolutionary legislation and so important, as we saw during a pandemic when people with temperature and coughs were asked to stay home. But how can a person living paycheck to paycheck afford to miss a salary? This legislation means they won't have to choose.
Pass Joint House Resolution 1, the constitutional amendment to fund early childhood education. It calls on voters to approve an annual distribution of 1% of the permanent land grant fund of $ 22 billion to ensure stable incomes for pre-kindergarten and other forms of early childhood education.
Send Bill 47, the Elizabeth Whitefield End-of-Life Options Act, to the governor. This would allow doctors to prescribe life-ending drugs to people who are terminally ill.
Bill 55 Act, which would require lawmakers to disclose their priorities for capital spending. It is essential for better government and for spending taxpayers' money wisely.
Approve Senate Bill 84, which would allow the establishment of community solar programs in New Mexico. This bill responds to the governor's objective of developing renewable energies, but will also be an economic engine, creating jobs and opportunities.
Complete important work to make the tax code fair and stable. In a comprehensive tax program, the legislature seeks to make the highest paid employees and businesses pay more taxes, while using those dollars to increase the working family tax credit and expand the overall tax refund. for low-income people. The legislation increases the number of personal income tax brackets from five to eight while increasing the corporate tax rate. This legislation, House Bill 291, prioritizes helping those who need it most in a way that is not overly burdensome.
Even at the highest level – people with taxable income over $ 415,000 – the rate would be 6.5%. The corporate tax rate would drop from 5.9% to 7.6% for companies earning more than $ 500,000; the increase would be spread over five years.
The set of tax rates is important. Senator George Muñoz, chairman of the Senate Finance Committee, still hopes to reduce the gross revenue tax base as part of the mix, perhaps using cigarette tax money to offset losses as l 'Majority leader Peter Wirth originally proposed. Many details, in other words, remain to be worked out.
And so it is in the last week of a legislative session. So much done and so much that remains. Will we see recreational cannabis legalized? Will lawmakers approve an independent redistribution commission to draw legislative, congressional and public education commission boundaries? How will the Legislature spend money to meet the demands of the Yazzie / Martinez lawsuit, which calls for more dollars to be spent on education for at-risk groups? So much to debate, to decide and to deliver.