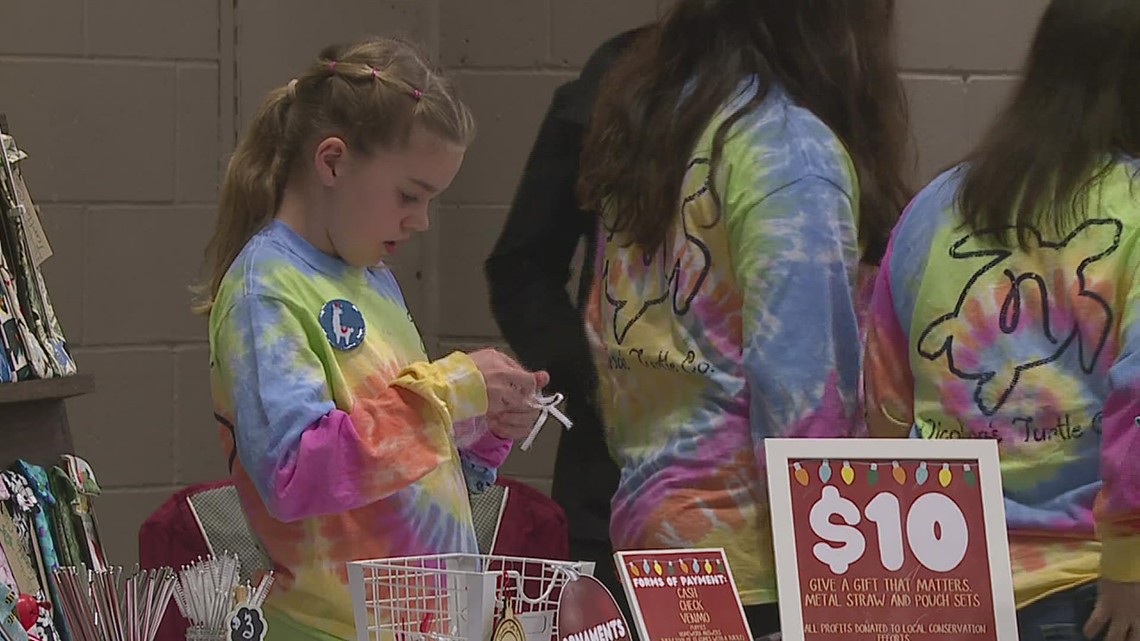 Crafty Cat Indie Art Fest returns for the fourth year
The fourth annual shopping event brought together around 100 vendors, including 16 children's stalls with their own handmade crafts.
DAVENPORT, Iowa – The Crafty Cat Indie Art Fest wrapped up its fourth year in downtown Davenport on Saturday. The two-day shopping event brought together around 100 vendors this year, selling crafts and vintage finds.
"This is a great opportunity to go out and shop locally, support local artists and support artists," said co-organizer and owner of Crafted QC, Mary Talbert. "Artists often have a hard time getting their work known and known. So as an artist, every time you make a sale, it motivates you for your next project."
The craft festival also featured 16 child sellers.
"It's really cool. A lot of these kids come back over and over again, and they sell themselves. They do great stuff," said Talbert. "It's fun teaching them early on that there are possibilities and that they can have fun careers and think outside the box a little bit."
She added that it also teaches children how to be entrepreneurs.
"These kids are learning their sales pitch, which is great," said Talbert. "If you go to their table, they'll tell you exactly what they did, how they did it, where they got the idea from, how long they've been doing it, and they're so excited. "
One of those children's stands is Nicolina's Turtle Co. It is run by Nicolina Pappas, 10, and Sadie Dusenberry and Lillian Vogel, 11. They have been selling metal straws as well as hand-sewn pouches for two years. They also sell key chains, ornaments and stickers.
"People should come and buy from us because we are helping the environment," Pappas said. "Second, we're basically kids who own the business. You don't usually see that much, so I think that would be a good way to support that."
Pappas wanted to start the business after his sister gave him a metal straw and learned how harmful plastic straws are to turtles. When she saw that her sister had just thrown the metal straw in her bag, she decided she wanted to make a case.
"She came to me and was trying to find a way to raise money for conservation. It bothered her at eight," her mother Lori said. "So she came up with the idea of ​​making the pouches and asked for sewing lessons."
Girls donate all their profits to conservation efforts. So far, they have donated over $ 4,000. They also convinced their school to stop using plastic straws.
"She started to realize that there were other kids who didn't know about conservation, that's when she started funding scholarships for the kids to go camping at the zoo, as well as fund outreach activities for Niabi Zoom and Nahant Marsh and Living Lands and Waters to help clean up rivers, "said Lori Pappas.
The Murphy brothers are also young entrepreneurs. 12 and 10 year old Declan and Kellen sell handmade jewelry. They have necklaces, earrings, and key chains.
"You just get tools and beads and threads and stuff and then you can do it with it," Kellen said.
Declan and Kellen said they learned how to make them from their mother who learned it from their grandmother. Once they figured it out they said it was easy to do. Each piece of jewelry takes them about five minutes.
The Crafty Cat isn't their first craft show, either. They have been selling at craft fairs around the Quad Cities for a few years. Declan said he learned to be a salesperson and to convince people to buy products.