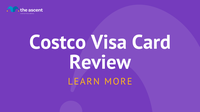 Costco 2021 Visa Card Review: Earn 4% Back
Best benefits
Up to 4% return: The cash back rates on this card are excellent and comparable to the very best credit cards. You will earn 4% on all qualifying gasoline purchases, up to a spending limit of $ 7,000 per year. This includes Costco gas stations. You'll also get a 3% discount on food and travel expenses, which includes Costco travel purchases. Any other expense at Costco or Costco.com earns 2%. On everything else, you get back 1%.
If you spend a lot on gas and groceries, this card's cash back rates will be perfect for you.
No annual fee: This is a card with no annual fee. To be fair, you have to pay an annual fee for a Costco membership. However, you are probably already a member if you use a Costco credit card. If you get this card, it also effectively replaces your Costco membership card.
No foreign transaction fees: If you are traveling internationally, the Citi Costco Anywhere Visa® card does not charge additional fees for transactions abroad. Since it also provides bonus cash back rewards at restaurants and on travel purchases, this card is a good choice for a travel credit card.
Protection of purchases against damage and theft: This card offers free purchase protections that cover reimbursement or repair costs on eligible claims. Coverage applies for 120 days from the date of purchase, except for New York residents, who have 90-day purchase protection.
Extended warranty coverage: Your Costco credit card will automatically provide additional 24-month warranty coverage on qualifying purchases that have a manufacturer's warranty.