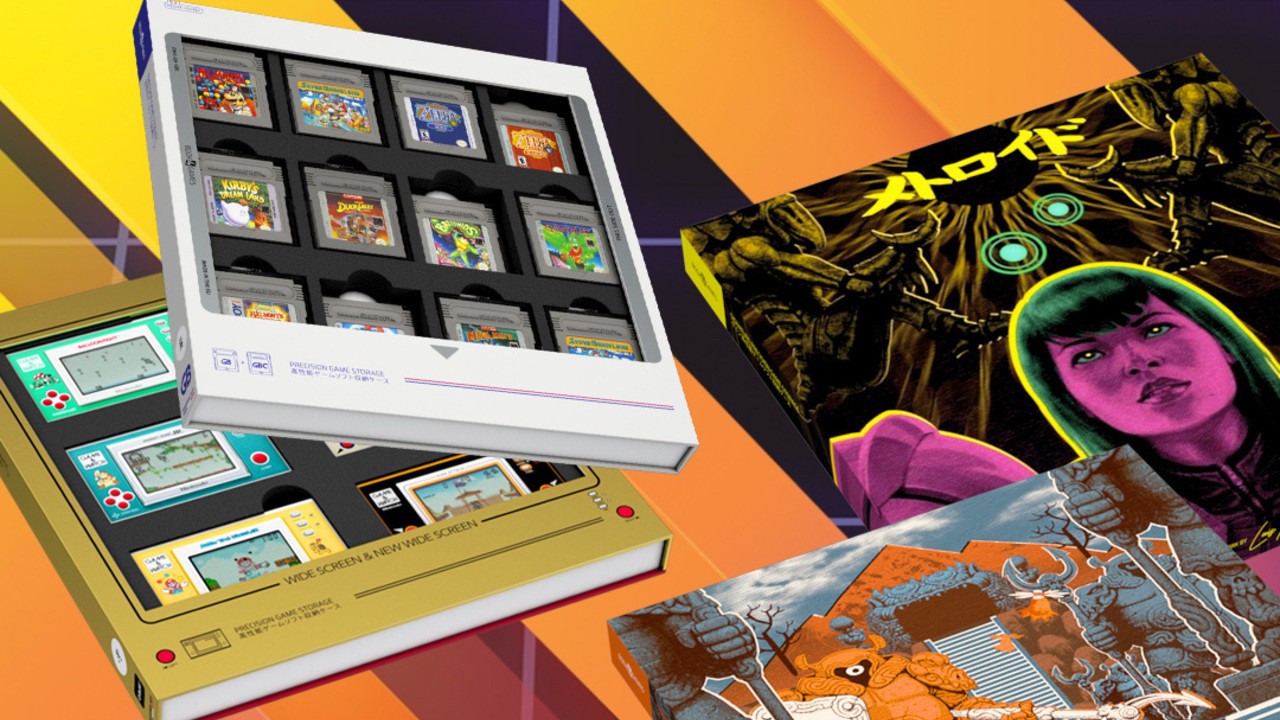 'Book4Games' line-up expands to include Metroid, Zelda and Game Boy designs
Not too long ago, we got our hands on the SNES Cartridge Storage Cases from Book4Games – essentially a way to safely store your free games in fancy book-style units. While we weren't totally convinced that this was a must have item, Book4Games has clearly had some success, as it is back with more designs – this time in reference to the Metroid and Zelda series.
This new range is "dedicated to historical video game series" and sees Book4Games "working in partnership with professional illustrators". The illustrations on these products are courtesy of Portuguese artist Luis Melo, who draws inspiration from retro games, science fiction and pop culture.
Book4Games is also launching Game Boy and Game & Watch storage options. These feature a window opening on the magnetic closure flap that allows you to view the games inside.
The Game Boy set allows you to store up to 24 Game Boy and Game Boy Color games – 12 in plastic cases on the top layer and 12 without cases underneath. Book4Games claims that this design choice was based on a survey it conducted which found that the number of people who wanted to store games with plastic cases was roughly equal to those who wanted to store them without.
The Game & Watch set allows you to store the first 'Wide Screen' and 'New Wide Screen' units and is also compatible with the newer ones Super Mario Bros. and the next one Zelda Game and watch systems. It even includes a storage section for LR44 batteries.
In addition, these new products will feature improvements over SNES boxes, based on customer feedback. "All new Book4Games products will now come with a transparent, semi-rigid PET protective case," the press release said. "These cases serve a dual purpose: to protect your games and the box itself, and also allow you to hang displays on your walls like paintings or shadow boxes to decorate your playroom."
If you are interested, know that Book4Games intends to launch a Kickstarter campaign soon to finance the production of these products:
You can sign up today on their pre-launch page to be notified at the start of the campaign and get an early bird bonus on day one (more details on the page): www.kickstarter.book4games .com

Book4Games specifies that the aim of this campaign is to be able to get closer to its customers and to stand on its own by relocating production and distribution to Europe.

The prices are still to be determined, as Book4Games wants to optimize them until the last minute in order to offer the best possible offer on launch day in a context of Covid19 where shipping and raw material costs have exploded.
Will you invest in any of them? Let us know with a comment.