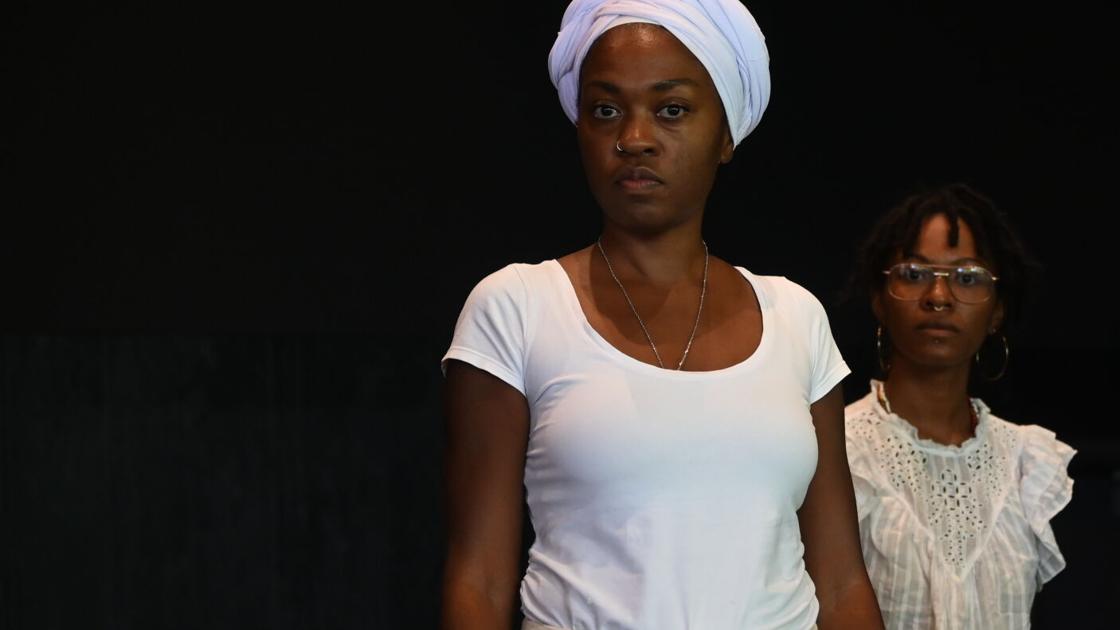 At PS21, women speak their truth in 'She / Her' | Arts-theater
CHATHAM, NY – In an old apple orchard, the breeze blows through the open-sided pavilion theater of the PS21 – a venue that seems specially designed for today's cautious audience.
"She / Her" is a new project from Nicole Ansari, an international creative force who acts, directs, writes and produces in multiple disciplines, while raising two sons with Scottish actor / husband Brian Cox in New York and the Valley. of the Hudson. Born and raised in Germany, she also founded Actors Rising, an organization that promotes healing through art.
At PS21, Ansari, activist, filmmaker, award-winning director of the web series "Messy" – and the occasional Shakespeare & Company actress – makes her directorial debut.
"I wanted to tell stories of women by women," Ansari said. "I like the form of the monologues and thought it would be nice to do something that tells real stories, like the butterfly [a storytelling collective] but in a more artistic way.
Its all-female cast, made up of friends and colleagues from and around New York City, includes Ansari; Great Barrington actress and longtime Hollywood screenwriter Michelle Joyner; Turkish writer and actor Melis Aker; Chinese violinist and educator Yibin Li and her 14-year-old daughter Liza Li Loube; filmmaker Nova Scott-James of Hudson; actress-rapper Kate Rigg; and poet Antoinette Cooper.
"I wanted to have eight wives, including myself," said Ansari, "because '8' is a sign of infinity and good timing in terms of the length of the show. And I wanted a spectrum of cultural diversity. .
The group met weekly on Zoom for three months, answering questions and prompts, and writing down their responses – "experiences we have had in our lives that unite and divide us as women," said Ansari. "It became organically very clear where this would go. "
"I really like this way of working, where art is created from life and vice versa," she said.
Topics of the monologue include first love, anxiety and abuse, pandemic mothering, poor family communication, teaching music, writing poetry – and a Turkish grandmother.
The performers play characters in each other's stories; "There is a lot of interaction," Ansari said.
The multimedia production incorporates the captured music, movement and Ansari film of each woman in her habitat. An 8mm filter imbues an old film quality "that illustrates the fragmented nature of memory," she said.
PS21 executive director Elena Siyanko invited Ansari to design the piece.
"I was interested in his career [and] experience of working with one of the greatest European authors, Ariane Mnouchkine, "said Siyanko. "A lot of [American] the theater is very narrative, they tell you a story. People like Mnouchkine invent so many different forms of theater, it's three-dimensional to them.
"For this season, when we didn't have a strong feminist stance, it was important to create that kind of work," she said. Previous PS21 residences have developed new dances and operas, she said.
"[Ansari] works equally well with professional and non-professional actors, "said Siyanko. "Being part of the community and working with people based here is important to us. "
Mother and daughter duo Yibin Li and Liza perform both music and monologues in "" She / Her. "Li worked with Ansari on stage and taught her children the violin.
"At 50, I struggle with the insecurity of how I handle life," Li said. "I have a lot of trauma when I was young." Going to a conservatory in China was "a very suffocating environment", full of questions, mistrust and gossip. "My dad always said, 'shut up, don't say anything outside that door'." The anguish with which she still lives is the theme of her monologue.
Li Loube is the common thread of the monologues. A student at LaGuardia High School for the Arts in New York City, she shows a conscience beyond her years.
Working with her mother, she says, is very strange. "I'm talking about becoming a woman, the feelings of a teenager, growing up," she said. Opening up to her parents "might be a bit difficult," she admitted. "But as long as it's coming from my heart, honestly, I don't think I could be wrong."
"It's going to be real," she added. "I think people need to hear that."
Plans are underway to stage "" She / She "in New York this fall.
"There is a lot of interest in the show," Ansari said. "I'm building a model that can go to other places. Players can be swapped with other local female monologues.
"Every woman has a story to tell.