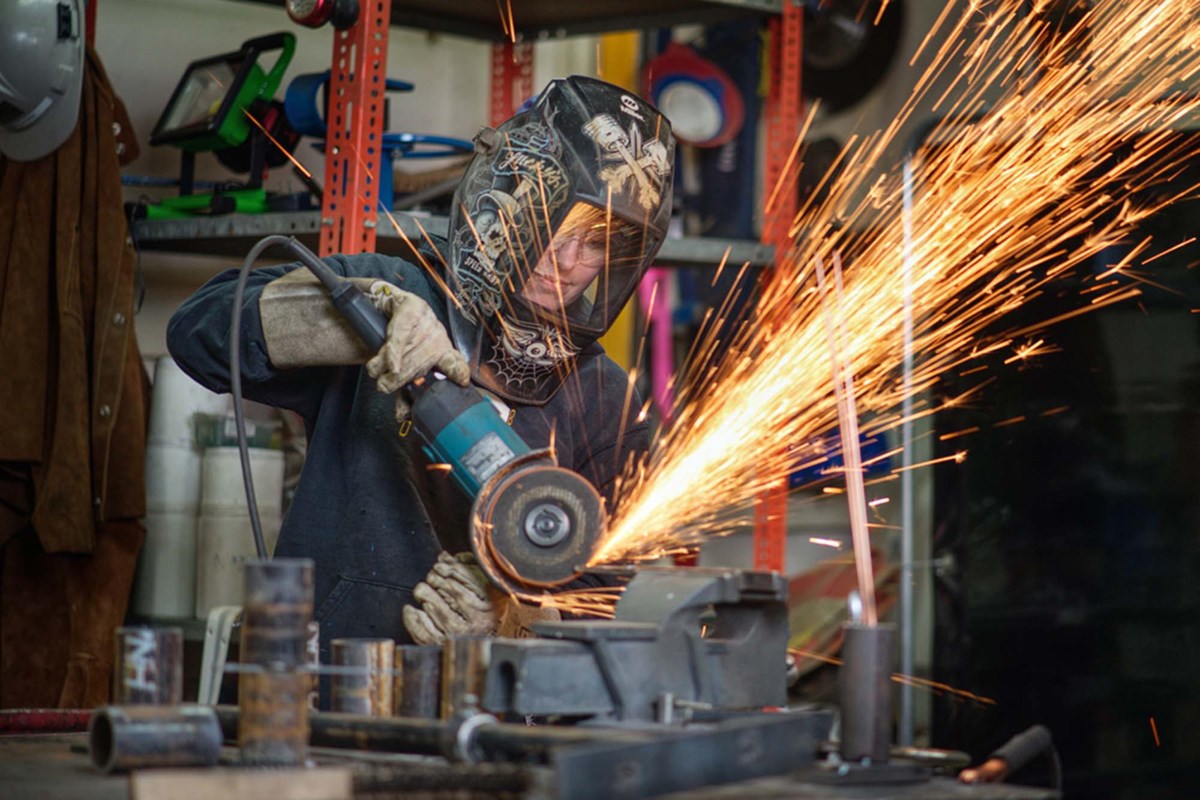 Artists About Town: Birds of Heavy Metal and Delicate Paper
The St. Albert Art Gallery welcomes spring with three exciting exhibitions filling its three gallery spaces.
The bird's eye view of Joanne Guthrie's studio must be a view of eclectic art-making tools. The professional welder who spends her spare time from the oil field fabricating metal creations of her own design has since expanded her practice into some decidedly delicate crafts. She makes her own papers and artistic mediums and uses found objects for her new work: mural embroidery.
"With my mixed media, I make most of my mediums from scratch using organic or found ingredients. I make my own inks from berries. I use burnt wood to make charcoal and I make also handmade paper Also this year I'm going to be doing metal fusion with recycled metal scraps because I'm really expanding into different types of metals like bronze and brass. brazing, especially tig brazing," she described.
Guthrie, one of VASA's newest Artist-in-Residences, makes her grand debut this month with the opening of her solo exhibition. Bird's eye view: an emanation of perfection includes 12 pieces of framed embroidery on handmade paper artwork, six of which feature birds in the trees and the rest feature delicately arranged flowers and foliage. To these are juxtaposed a collection of 13 complete welded metal sculptures representing the types of birds found in North America.
The diversity of the artist's skills and interests in creating art is enough to warrant a closer look at the exhibition. Working with minimalism at heart, she takes scrap pieces that she reconfigures into small bird shapes.
"In my metalwork, I'm really, really fascinated by the raw: the roughness of the material, the worn edges and the geometric shapes. I really wanted to accentuate that in my metal sculptures. That's why I use most cuts," she said.
"I took about a bucket full of scrap metal and didn't change them. I used the raw material. I just made do with it. They're almost like puzzle pieces when I put them together, and then they just come together and I fall in love with them. They're amazing."
Her birds and flowers embroidered on handmade paper also demonstrate her interest in minimalism, not only in the methods of creation, but also in the aesthetics of the final results. She strove to balance each piece symmetrically using the fewest lines.
"Another thing I've done in my practice is I've really tried to implement an eco-friendly, zero-waste studio process. All my paper comes from my trash. I recover metal as I go. and as. along."
She noted that she is now working on an exhibition using plastic waste and plastic bags as raw materials.
Bird's eye view until Saturday April 2. VASA is located at 25 Sir Winston Churchill Avenue. Call 780-460-5990 or visit vasa-art.com for more information.
Everywhere you look AGSA…
The St. Albert Art Gallery has its main gallery space, stairway gallery, and the characteristic vault – a real vault, as the building housed a bank after all – where art can be hung. These three spaces are animated by the variety of art that it is worth comparing the gallery itself to a garden in the spring. Its shoots show.
Like Julya Hajnoczky Refuge (in the gallery's main exhibition space) nears its closing date of Saturday, March 19, a new exhibition has begun life in the vault. Edmonton's Jenny Keith filled the safe with keep them Sure featuring three large-scale paintings featuring three endangered Alberta animals: a woodland caribou, a grizzly bear and a whooping crane.
The U of A-educated artist devoted herself to studying her subjects in preparation for these works. She learned as much as she could about her animal subjects, including their habitats, ranges, and diets, not to mention knowledge of the other flora and fauna that coexist with these creatures. Keith's works show the central animals surrounded by the key species on which they depend or which depend on them. The energetic and detailed work shows how species are not alone in their ecosystems. Almost all of Keith's chosen species are currently threatened or endangered.
The artist uses this show as a way to create a spirit of wonder and conservation by inspiring others to do what they can to protect all of these creatures for future generations. Keep 'em safe will be exhibited in the vault until Saturday 16 April.
Between the vault and the main exhibition space is the staircase gallery, and this is where you will find the work of Rick Wolcott Raven Tales. The show is his take on four tales featuring the ever-charismatic trickster and Professor Raven. Each sculpture shares a different aspect of Raven and her influence on the world. It runs until Saturday, May 7. The Saint-Albert Art Gallery is located at 19, rue Perron. Call 780-460-4310 or visit artgalleryofstalbert.ca for more information.
Major artistic events on the horizon
As public health restrictions ease, an expected avalanche of arts events is revealed. After a few years of break for the COVID, the Night of the Artists returns to the Enjoy Center on the weekend of March 18 to 20. It will begin with its usual Friday evening gala, followed by two days of living room atmosphere for dozens of visual artists to show and sell their creations. Visit nightofartists.com for details.
ArtWalk will once again host Thursday evenings throughout the summer. It will invade the Perron district with art exhibitions, street artists and more on May 5, June 2, July 7, August 4 and September 1. Visit www.artwalkstalbert.com for details.
Beyond that, the St. Albert Painters Guild is thrilled to bring back Art in the Open – the self-guided art tour and sale at several residential destinations around the city. Expect him to return on Saturday, June 11 from 10 a.m. to 5 p.m. Visit paintersguild.wildapricot.org for more details on this.