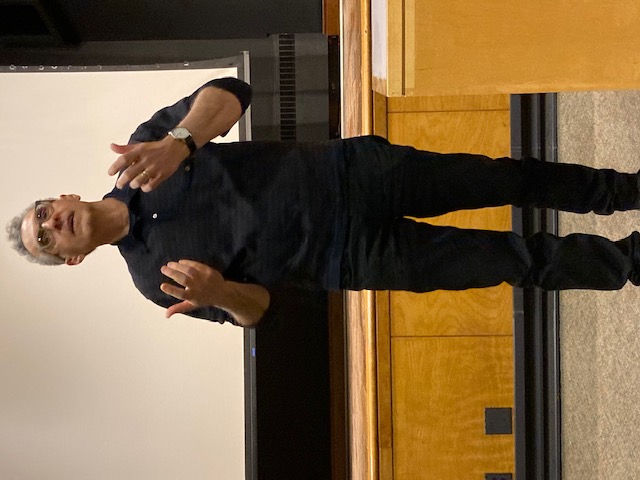 Actor John Turturro P'23 shares film clips with film students
Award-winning actor John Turturro P'23 joined the class one afternoon in April to talk about acting and filmmaking techniques.
Turturro has appeared in over sixty films, alongside names such as Robert Redford, Adam Sandler, Robin Williams and Robert De Niro. He has worked many times with legendary directors like Spike Lee and the Coen Brothers and is known for his contributions to the independent film movement. Turturro, however, can also be regularly seen in Hollywood blockbuster films such as Transformers franchise and, more recently, The Batman.
The actor selected scenes from a number of films, made between the 1930s and 1970s, to talk about with the class, with each clip illustrating the on-screen chemistry between the leading couples.:
In The Lady Eve (1941), a wacky comedy directed by Preston Sturges, the class watched Barbara Stanwyk's trickster turn her seductive charms into the unsuspecting Henry Fonda, who plays the naive heir to a brewery fortune. "In this scene, she seduces him in a way that he doesn't know," Turturro said, "which makes for a great scene."
Like many artists of that era, he explained, Stanwyk was a great actor. "In older movies, everyone was developing a walk because there weren't all these close-ups." For example, consider James Cagney, Bette Davis or John Wayne.