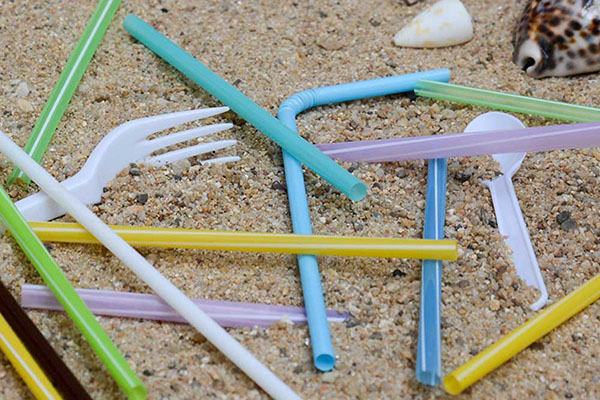 40,000 NSW businesses will get extra help to ditch single-use plastics
In line with the NSW Government's recently announced Plastic Reduction and Circular Economy Act 2021, over 40,000 NSW businesses will be supported to phase out single-use plastics.
NSW Environment Minister James Griffin said the NSW government is teaming up with the National Retail Association (NRA) to co-design and lead a campaign to help businesses move away from single-use plastics.
Minister Griffin notes that "almost every piece of plastic ever made is still with us. More than 2.7 billion plastic items end up in New South Wales waterways each year, wreaking havoc on the environment and endangering wildlife.
"To protect our environment, we're getting rid of some single-use plastics later this year and this campaign will help ensure NSW businesses are ready to go."
Over the next nine months, the NRA will visit more than 650 retail areas providing fact sheets, signs and tips to help businesses make the transition.
National Retail Association chief executive Dominique Lamb said the program will also focus on supporting distributors, importers, manufacturers and nonprofits through resources, online sessions and in-person forums.
Lamb emphasized that "we also want to make sure we engage with hard-to-reach communities, especially small businesses, culturally and linguistically diverse (CALD) groups, and regional areas.
"Businesses and community organizations need our help to understand and comply with the ban, but also assistance in preparing their customers for the change."
The supply of lightweight plastic shopping bags will cease from June 1, the supply of single-use plastic cutlery, straws, stirrers, plates and bowls, cotton swabs, expanded polystyrene food containers and products containing plastic microbeads will also end from 1 November. Exemptions will apply to people who depend on certain plastic products for disability or health reasons.
Minister Griffin added: "While we recognize that a number of businesses large and small have already phased out single-use plastics, for many the ban will mean significant change and they will need government support and the community.
"Consumers will also need to be prepared for changes when collecting takeout or shopping, especially when receiving straws, crockery or cutlery."
Small Business Minister Eleni Petinos said close cooperation between government and industry was needed to ensure minimum disruption and noted that "during the transition phase, the NSW Government will work closely with industry stakeholders to support smooth change.
"Small businesses need to know now how they will be affected so they can start planning for alternatives to single-use plastics. Not only will this help small retailers comply with new laws, but it will also ensure that their customers are aware of the changes that will occur.
Related Articles
January 3, 2022 – Western Australia is phasing out single-use plastics
September 14, 2021 – Australian government declares support for a legally binding global plastics treaty
August 31, 2021 – Australian Marine Conservation Society welcomes Queensland ban on single-use plastic
June 14, 2021 – Governments of NSW and Western Australia announce new plastic bans
April 1, 2021 – Legislation passed to phase out single-use plastics in ACT
March 11, 2021 – Queensland Government passes law banning single-use plastics
March 1, 2021 – South Australia's ban on single-use plastic begins today
February 19, 2021 – Replas technology partnerships recycle the most problematic plastics
January 8, 2021 – ZOGGS advances its sustainability mission with swimwear made from plastic bottles
December 9, 2020 – The Australian Marine Conservation Society stresses that new federal laws banning plastic waste will not save wildlife
November 9, 2020 – WA Government releases new strategy to reduce single-use plastics
September 10, 2020 – South Australia becomes the first state to ban single-use plastics, but the ban is delayed until 2021 due to COVID-19
July 15, 2020 – Queensland Government decides to ban single-use plastics to save marine life
16 February 2020 – South Australia's second largest company is getting rid of plastic
February 3, 2020 – ACT takes action to phase out single-use plastic products
December 30, 2019 – National Plastics Summit set to tackle Australia's growing waste problem
December 9, 2019 – New Zealand government commits to next steps on plastic waste management
July 27, 2018 – ICC Sydney is a leader in plastic bottle waste reduction events and venues
May 28, 2018 – Zoos and aquariums seek to reduce plastic waste
29th January 2018 – Far North Queensland tourism operators back Great Barrier Reef plastic straw ban
July 12, 2017 – Taronga Zoo moves towards plastic-free operations
---
Support our industry news service
We hope you enjoy the news we post, so while you're here can we ask for your support?
As an independent publisher, we need reader support for our industry intelligence gathering, so ask – if you're not already – to support us by subscribing to the print version. Australasian Leisure Management magazine and/or our online news.
Click here to see our subscription options.